How to Use Chalk Paint in Your Apartment
Moving into your first apartment is exciting. It's the first taste many people get of true independence and freedom.
Personalizing your apartment is even more fun. Decorating your place is the best way to make your temporary home feel like it's truly yours.
This can be hard if your lease prevents you from making any permanent changes, though. And unless you're a crafty person or you grew up around interior design gurus, you may not even be aware of all your options.
At one time, there weren't too many temporary fixes for the average college student to decorate their homes with. But today, you have innovative products like chalk paint!
Chalk paint is a trendy way to cover surfaces with a matte-like look, similar to old-style classroom chalkboards. It brings a distinctively vintage style to anything it touches, adding character to even the most mundane items.
If you've thought about repurposing some old furniture or giving your things an overhaul in your new home, chalk paint is a fun and easy option.
Here are some of the best ways to use chalk paint to enhance your apartment:
---
1. Paint Your Room
Most college students share an apartment with peers, but you can still personalize your own room. Chalk paint gives you color and design options you won't get with temporary wallpaper (although that can also be fun).
Painting an entire wall with this type of paint is simple. Chalk paint goes over any surface easily, so all you have to do is make sure the wall is clean and free of holes.
If there does happen to be a few nail or screw holes, patch them up with spackle or plaster before you paint so they don't show through.
Use your brush or roller to cover the wall. If you're feeling creative, you can always add designs or pictures as you paint. Chalk paint is water-based so it's easy to wipe off if you make a mistake. It's also thicker and less apt to make a drippy mess.
When you move out, you can remove the chalk paint layer with natural paint thinner and keep the original wall surface intact!
---
2. Cover Your Furniture
Most college students don't have a house full of brand new furniture. Your apartment is likely a hodgepodge of hand-me-downs and old things you brought from home.
If you want to create a consistent theme in your home and don't want to shop for new furniture, use chalk paint to tie everything together!
Each room can have its own color scheme, or you can blend the whole apartment together with complementary colors. From your dresser to the kitchen table, chalk paint can revamp any piece of furniture and make it more appealing to the eye.
(Remember, this technique is only on the table if you own the furniture. If you rent a furnished apartment, don't do this).
Related: What to Bring to College [Complete Packing Guide]
---
3. Change the Upholstery
Is your couch more shabby than chic? Did you get your furniture from a well-meaning friend or family member, and now you're stuck with ugly chairs?
Just because it's upholstered doesn't mean it has to stay that way. Chalk paint can cover fabric!
First, vacuum the upholstery and use a lint roller to pull off any excess hairs or debris. Cover the parts of the item you don't want to paint. Painter's tape is a good way to do this.
Use a test area to play around with the paint coverage before you get to the real job. It may take a few times until you find the paint-to-water ratio that gives you the consistency and color you prefer. Fabrics will all absorb the paint at different levels, so test every piece of furniture you plan on painting.
Once you get the paint how you want it, start painting! Try to keep the brush strokes going in the same direction. Some textures will show the differences more than others.
Let it dry overnight and come back the next day to touch up any inconsistent areas.
---
4. Add Pizzazz to Your Kitchen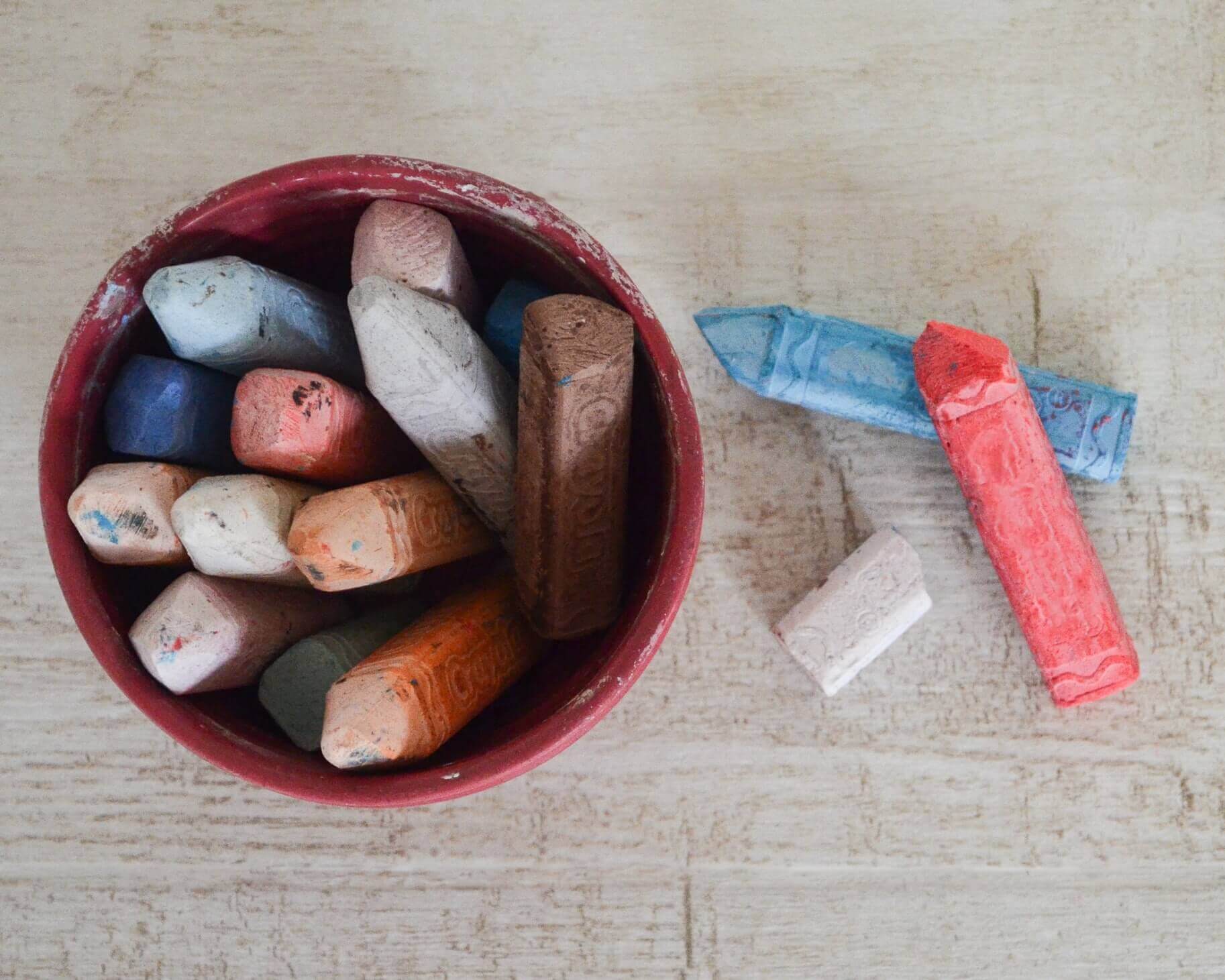 Chalk paint is a fun way to spice up the kitchen. If your roommates don't mind, you can completely overhaul the whole room.
Choose a color scheme everyone can agree on. Pick one main shade and then use accent hues based on that pigment.
Start with the kitchen cupboards and get rid of any boring or fading surfaces by adding a fresh layer of chalk paint.
After that, use the accent shades to bring a cohesive look to the whole kitchen. Add a memo board on the wall, either by buying one or designing your own. It is chalk paint, after all, so you can write on it!
Go as far as you'd like by painting the coffee maker, kitchen tools, and everything that you want to match. Just make sure you have permission if it's not yours!
---
5. Step Up the Stairs
If your apartment has stairs, either outside or inside, you can spruce up the look with chalk paint.
Start with waterproof paint, even on indoor stairs. The area will likely get a lot of traffic, so unless you plan to police everyone to make sure they take off their shoes, it's best to use the right chalk paint.
Any time you paint something that will be exposed to the elements, like your outside stairs, make sure you use water-resistant products. Some brands claim to be able to prevent mold from growing. If you live in a climate where it's frequently damp, this is a good option to look into.
You don't have to strip or sand the stairs to use chalk paint. No permanent harm is done to the surface, so you can style your new apartment to your personality with confidence!
Further Reading: College Housing Alternatives [Renting With Friends]
---
You might only be living there for a short part of your life, but while you're in your college apartment, you can make it your home. Chalk paint is a quick, simple, and temporary fix that lets you show off your personality without the worry of losing your security deposit!