11 Clever Bathroom Signs to Consider For Your Home (Plus 13 More We Love!)
Whether you live in a tiny apartment or a huge house, there's a good chance that your bathroom is one of the smallest spaces in your home. But that certainly does not mean that you can't have fun decorating it.
And since the washroom is reserved mostly for hygiene and personal business, we love to see one decorated with personal touches.
Looking to add some wit or humor to your washroom? Here are 11 clever bathroom signs to consider for your home (plus 13 more we love)!
---
Clever (and Funny) Bathroom Signs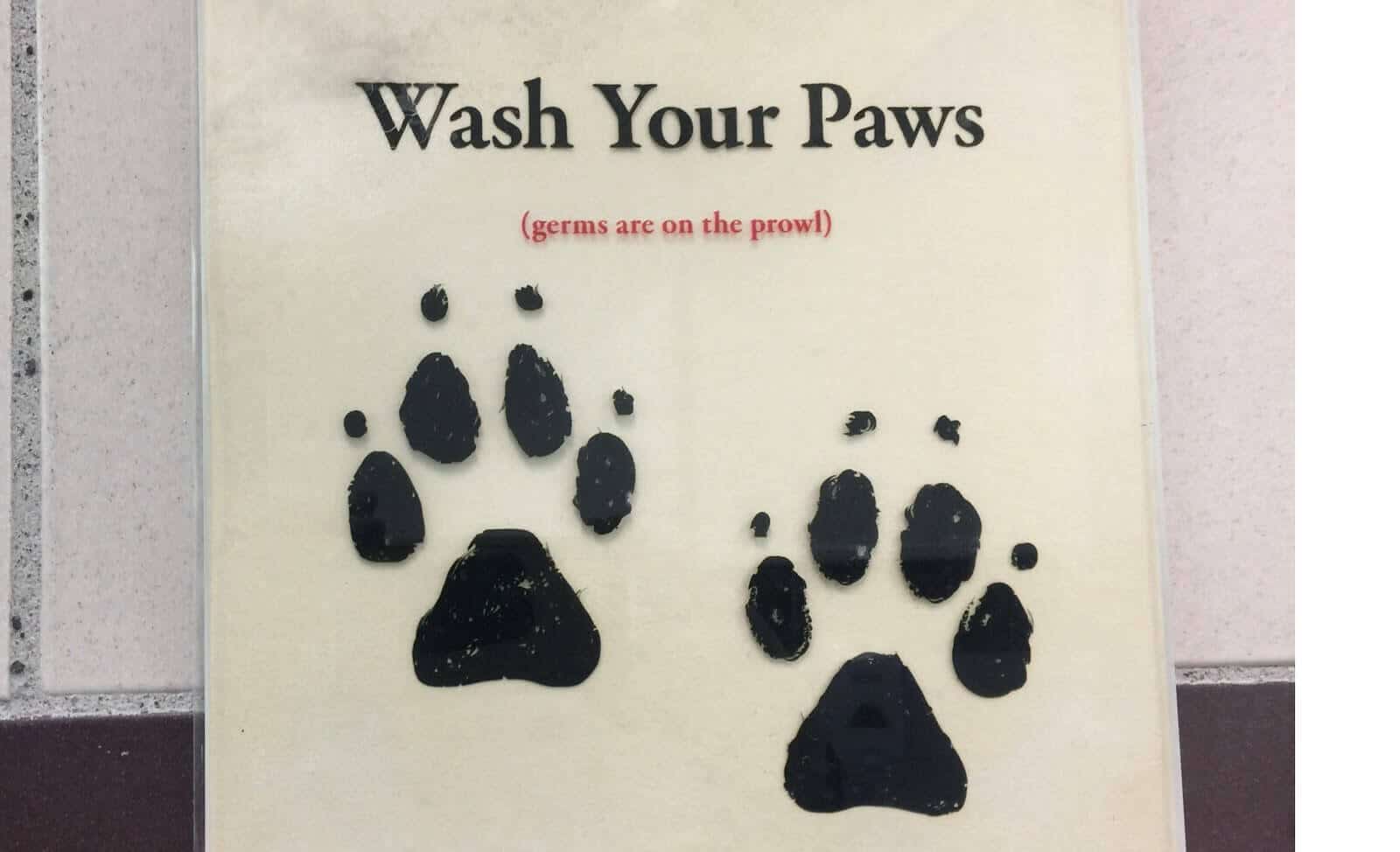 Whether you're washing your hands, taking a shower, or handling other business, these clever restroom signs are made to put a smile on your face.
Hang them on a door, on a wall, or prop them up on a shelf. Either way, you're sure to get a chuckle out of everyone who uses your loo.
Bathroom Definition Wall Art
Clean and modern with a dash of humor, this bathroom definition poster is a printable option that you can download, print at home, and frame right now.
Defining the bathroom as the "best seat in the house," this printable bathroom sign features cool typography. With black print against a white background, it's easy to display in any type of frame.
"Potty Like a Rockstar" Wood Sign
Forget partying like a rockstar … the bathroom is the place to potty like a rockstar! Made from manufactured wood for a rustic look, this wood sign features a small, rectangular shape with a bold print.
It doesn't come with any mounting hardware or hooks to hang it, but it's super lightweight, so you can display it on a wall with a few Command strips. The small size also makes it perfect for propping up on a shelf or leaning against the back of your vanity or toilet tank.
"Relax, Soak, Unwind" Wall Art
With block lettering on matte paper, this wall art is the perfect addition to any bathroom. It's available in a variety of sizes and comes unframed so that you can put it in any frame you choose.
See also: 7 Creative Front Door Decor Ideas
"Wash Your Hands Ya Filthy Animal" Wall Plaque
A nod to that classic quote from Home Alone, this wall plaque is made from tin and features a casual, rustic design. This "wash your hands" sign does more than just lay down the most basic bathroom rule — it also adds some humor to your home.
Superhero Bathroom Rules Wall Art
Looking for a fun way to decorate a kids' bathroom? Check out this superhero-themed bathroom rules sign set.
The set includes three individual wall panels in a comic book motif that spells out some of the most basic bath rules: wash, brush, flush!
Unisex Stick Figure Bathroom Sign
Make a commentary on society and gender norms with this unisex bathroom sign. Engraved on acrylic in a small square shape, this sign is perfect for hanging on any restroom door.
When you have guests over who aren't familiar with the layout of your place, this sign makes it clear where the washroom is, no matter who needs to go.
"No Selfies in the Bathroom" Sign
There are lots of bathroom rules signs out there to remind you to flush and wash your hands. But this sign spells out rule number one: no selfies in the bathroom!
This framed print is ready to hang in a traditional molded frame. At first glance, the script lettering looks like any classic, elegant bathroom sign, but upon closer look, you'll see the humor.
"Be the Change" Framed Wall Quote
Looking for a bathroom quote that will actually inspire people? This framed wall quote is it.
This wall sign comes in a rustic wood frame and acknowledges the fact that no one likes to change the TP roll! Not only will this print add some humor to your bath, but it just might guilt people into changing the roll when they use the last square.
Five-Star Review Wood Sign
Love a good review? The five-star wooden sign is perfect for any rustic bathroom or powder room decorated in modern farmhouse style. This funny bathroom sign is simple and to the point with the words "Would poop here again."
Okay, so maybe it's not as great as a five-star Yelp review, but it's as close as your bathroom is going to get!
This Etsy seller has a ton of cool home decor signs, including other funny bathroom signs with sayings like "Get naked," "Hello sweet cheeks," and "Nice butt."
"Women Are Always Right" Metal Sign
This metal sign says, "Men to the Left Because Women Are Always Right," offering the perfect bathroom humor for an apartment shared by male and female roommates. This handmade metal sign features a square shape with a slightly distressed finish that gives it a cool, vintage look.
Related: 11 Studio Apartment Design Ideas
Retro Housewives Wall Art
Looking for bathroom wall art with a fun, retro vibe? This wall art comes in a set of three 1950s-inspired prints, all of which are perfect for use in a modern bath.
Hang the toilet sign above the toilet. Hang this "wash your hands" sign next to your sink. Or, hang them all together on one wall to create an even bigger impact.
These room signs feature a black-and-white motif that makes them easy to coordinate with any type of bathroom décor.
---
More Bathroom Signs We Love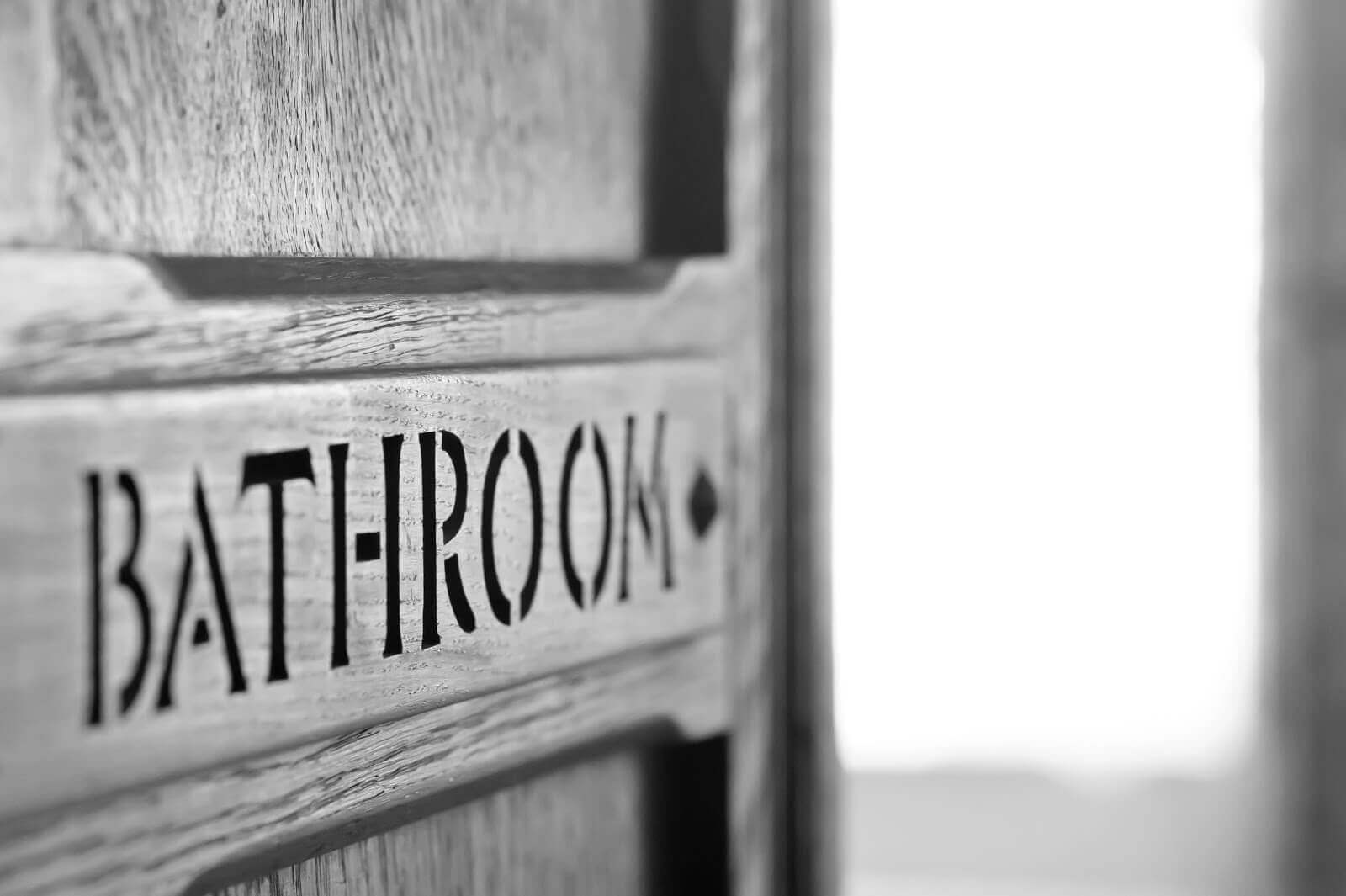 If you'd rather show your style than your sense of humor, check out these bathroom signs with rustic, vintage, and European vibes.
From your master bath to your smallest guest bathroom, these decor signs are sure to make your restroom a bit more unique.
Art Deco Bathroom Sign
Add some Gatsby-inspired style to your washroom with this art deco bathroom sign. This wall-hanging sign features a slim, handmade metal rectangle with an art deco font that gives it a cool, vintage look.
It's small and sleek — the perfect way to identify a bathroom door with style.
Tin Bath House Sign
If only a whiskey was still 25 cents! This bath house sign harkens back to the inexpensive prices of days gone by, when a shave cost just 50 cents and a hair tonic (whatever that is) cost a dime.
This vintage wall art is made from tin with distressed edges that make it look like it was recovered from an old barn on the side of a road. All the more reason to love it!
Pin-Up Girl Vintage Metal Sign
In tin with a retro print, the vintage pin-up girl sign has a cheeky look that would have probably been considered naughty in its time. This bath sign simply says "bathroom," making it ideal for hanging in any room with a tub that needs a touch of retro style.
Vintage Pig & Co. Wall Art
Funny bathroom art comes in all shapes and sizes, and this vintage Pig & Co. wall art is equal parts cute, charming, and humorous. Featuring a pretty pink piggie in a bathtub full of suds, this art comes in a variety of sizes as either a poster print or as a canvas.
It makes a fun statement on its own, but it also coordinates perfectly with the Mermaid & Co. bath sign below.
Mermaid & Co. Bath Sign
Printed on high-quality, resin-coated paper, this Mermaid & Co. bath sign boasts a vintage look with a bit of a nautical twist — perfect for hanging in a beach house or summer home. Featuring a beautiful mermaid soaking in a gold clawfoot tub, this poster is highly stylized with a simple message that reads, "Wash Your Tail."
This bathing mermaid comes in a variety of sizes and can also be ordered on canvas with a coordinating frame.
Unisex Wooden Restroom Sign
This wooden restroom sign is a great way to add a bit of vintage style to a powder room or guest bathroom. It is made from light wood and features an engraved dancing couple to indicate that your restroom is open to all.
Hang it on a door or prop it up on a shelf inside your bathroom — either way, it will be a conversation piece!
Victorian-Era Restroom Signs
The right bathroom wall decor can add a sense of sophistication to your lavatory, and these Victorian-era restroom signs are made for exactly that. These engraved signs feature the silhouettes of an old fashioned lady and gentleman, making them a unique addition to any home.
Personalized Bath House Sign
The next time you need a great housewarming gift, consider this personalized bath house sign. Fully customizable with any name, this sign has a rustic farmhouse vibe with distressed accents and a vintage font that gives it a timeless look.
In canvas and wood, this bathroom sign has a one-of-a-kind style that's perfect for hanging in any shared bath or powder room.
"Soap and Water" Farmhouse Bathroom Sign
If you're a fan of farmhouse bathroom decor, you're sure to love the look of this distressed wood sign.
The soap and water farmhouse bathroom sign is handmade from real wood. It features a hand-painted design and lightly sanded edges that give it that worn, rustic look.
The small, rectangular shape makes it easy to hang on a wall or prop up on a shelf or bathroom counter.
"Fresh Soap" Rustic Sign
In an age of constant hand-washing, there's no better way to call out the need for personal hygiene than with this rustic sign. With a thick wooden frame, it features a fresh soap and water print, making it perfect for placing on a shelf near the sink or above a toilet tank.
French Door Sign
Add some Parisian flair to your bathroom with this salle de bain French door sign. This bathroom door sign is made from metal with a fleur de lis tub and distressed painted edges that give it a vintage look.
It's a great way to distinguish your bathroom door from the other doors in your hallway. But, it also looks just as chic hung on a wall inside your restroom or propped up on a small shelf.
"Il Bagno" Bath Sign
Proudly display your Italian heritage or show your love for the Italian countryside with the "Il Bagno" bath sign. This oval bath sign features an ancient Mediterranean look and has a hanger on the back that makes it easy to display on any wall.
Every sign is hand-cast, hand-painted, and hand-stained, giving each one a unique and authentic Italian look. Whether or not you've ever been to Florence, this wall sign will bring a bit of Firenze style right into your bath.
"The Loo" Wall Sticker
Add some UK-inspired attitude to your bathroom door with this wall sticker. This vinyl wall decal features a simple and modern design that's easy to apply and just as easy to remove. When you tire of it, just peel it off!
We prefer this decal with simple black lettering, which is perfect for displaying on a white door. But if you're looking to add a pop of color, it can be customized in a variety of different shades, including some shimmery metallic hues.
See also: 5 Common Virtual Networking Mistakes to Avoid
---
Whether you're looking for funny restroom signage or chic home décor, there are thousands of bathroom décor signs available, including hundreds of handmade designs from artisans on Etsy.
So if your walls or door need a fresh look, add some new wall art to your half-bath or powder room. Hang a piece of wall art above your toilet paper dispenser in your guest bath. Add some colorful, retro prints to your master bath.
From vintage to rustic to modern style, wall art comes in just about every theme and motif imaginable. But when it comes time to decorate a room as simple as a bathroom, we think lighthearted humor is the way to go!