7 DIY Log Ideas to Create a Rustic Look in Your Apartment
The rustic look has become one of the most popular trends in interior design. It's an easy way to bring the comfort and relaxation of the outside into your apartment.
One of the most common design elements used when aiming for that country feel is the log. Old branches and tree roots make excellent DIY decor in any room!
Using wood to decorate your apartment adds a fresh, homey feel to the space. With these seven DIY log ideas, you can create a rustic look in any room by including the outdoors indoors.
---
1. Staggered Shelves
One of the most straightforward DIY log ideas is to build shelves for your apartment. Even if you can't hang them because of your leasing rules, you can always find ways to prop them against the wall or on the counter. Extra flat space comes in handy in any room!
DIY shelves are simple because there's really no wrong way to make a floating log shelf or a set of them. All you need is a piece of wood from a log and an idea of what you want.
To give you some direction, use this short instruction as a starting point. You can adjust the materials, finishing touches, and sizes as you choose once you know what you're doing!
Gather a small log, a saw, and some brackets. Add stain or paint to your list if you want to decorate your shelves.
Trim the edges of the log away, then cut what's left into slices of your preferred thickness (typically 1" or 2").
Use the brackets to hang the shelf to your wall or connect them together for a leaning display.
Natural logs can attract insects. Depending on the type of lumber you use, you may need to treat it before using your new shelves (or any rustic DIY job) as decor.
Similar: The Newest Trend in Dinnerware: A Blue Rose Pottery Review
---
2. Pet Accessories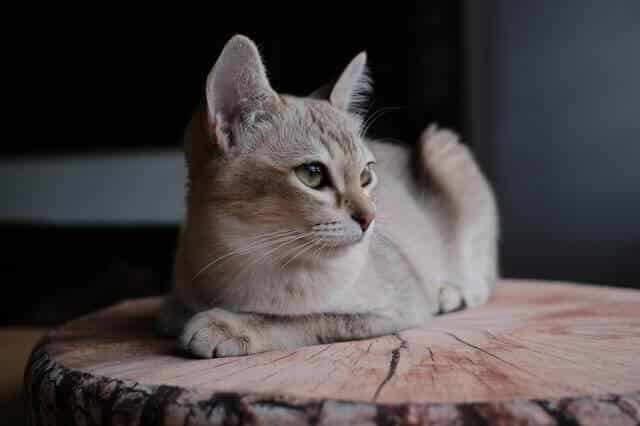 For many of us, our pets are family members. We want the best for them, and with DIY log decor, you can give your fur-ever friends the ultimate in pet accessories.
Start simple with a food and water dish stand that matches your pet's height. When tall dogs eat and drink from bowls on the floor, they tend to make a mess because of the awkward reach. But short pets need their bowls to be stable, too.
With a bowl stand designed especially for your furry friend, you get matching decor for the rustic look. Even better, your pet benefits from the ergonomically correct reach and durability.
Once you master the log bowl, you can begin to replace all your pet's accessories.
A spacious timber bed with soft blankets and pillows fits right next to your own sleeping space. And a scratching post designed from a tree to look like a tree is sure to be a hit with any feline!
---
3. Furniture
When you're aiming for a cohesive, rustic look for your apartment, you can tie everything together by building your own furniture.
This might sound intimidating at first, but once you start the process, you'll see the big picture. Every piece of DIY furniture mimics the same steps, with a few tweaks thrown in to make it unique.
Build a matching end table and coffee table for the living room. When you've mastered that simple look, move on, and make your own kitchen table and chairs.
Who knows, you might get so proficient at them that you can start a business making log furniture!
You may also like: 5 Common Virtual Networking Mistakes to Avoid
---
4. Entryway Benches
Benches are typically outdoors, but you get to decide what you want in your home. Think about having a gorgeous log bench in your entryway when you walk in the door. It will come in handy as a place to set your stuff when your hands are full and look great, too!
Making a DIY log bench for your entryway is an easy beginner's task. You can follow the instructions to create an outdoor version and then treat it with insect repellant if necessary.
Be sure to measure the space in your hallway where you want to keep the bench. Trim the pieces in the instructions down to size accordingly.
---
5. Bookshelves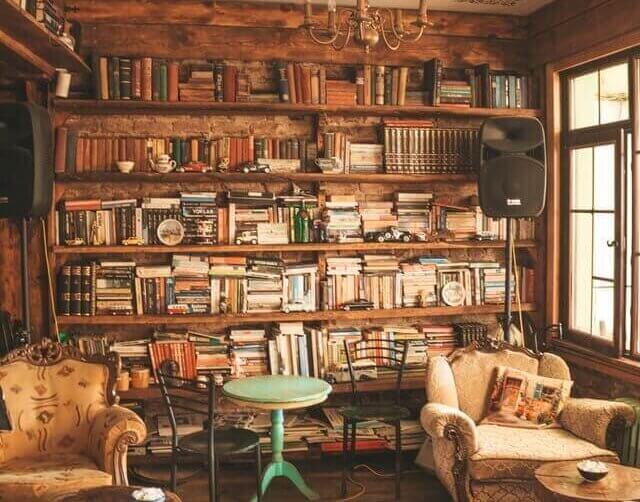 Are you a bibliophile? Is having a room full of books a dream come true for you? If so, your perfect rustic look might start with a set of bookshelves.
Log bookshelves bring elegance to any room. Even if you don't want to store books in them, you can use your furniture to hold your knickknacks and collectible memorabilia.
A word of caution, though. Books attract insects like roaches and silverfish. When you combine your paperbacks and hardcovers with lumber shelves, you need to make sure to treat the wood.
Never use particle boards or soft lumber. They aren't strong enough to hold the heavy weight of a set of books. Redwood and cedar are considered the best wood to use in bookshelves because they're durable and naturally bug-resistant.
---
6. Wall Art
When you really want to show off your log decor, why not hang it on the wall? It's an affordable way to cover blank spaces and create a rustic look at the same time.
The best part is that you can style the art any way you choose. Make your own log picture frames or slice a piece of lumber into a hodgepodge of small pieces. Then use sticky adhesive tape to hang the lightweight items on your wall until you're satisfied with the final look!
Related: How to Add a Chill Vibe to Your Bedroom
---
7. Wine Racks
Wine racks aren't just for connoisseurs and sommeliers. Beginner DIYers can turn a wooden crate or an old log into a bottle holder worthy of the fanciest vintages!
For short-term storage of wine bottles, convert a wooden crate into a rack. Just add a criss-cross of lumber to separate the inside into diagonal quarters, then stain or paint as you prefer.
If you're looking for something fancier, you can get as intricate as you please. Create your own wine cabinet or use wood and rope to show off your sophisticated choices. The final rustic look is only limited by your imagination!
---
Conclusion
Interior design trends often come and go with the season. One style that has been around for thousands of years, though, is the rustic look.
Seamlessly blend log decor with vintage, shabby chic, or modern themes by making your own furniture and accessories to suit your taste.