Your new home is perfect.
It has everything you could ever want and more.
Except you own one plate and a coffee mug that was gifted to you by your grandmother four years ago, and that's pretty much it.
Don't worry, we've got you covered.
You will soon be on your way to the fully stocked kitchen of your dreams, complete with every odd and end that may slip even the most organized minds. Every need will be met by the time we're done here.
With this list of 53 kitchen essentials for your brand new apartment, you'll be ready for every dinner party and midnight craving that comes your way.
Grab your device or type up a printable grocery list, you have some shopping to do!
---
Kitchen Essentials for Cooking Prep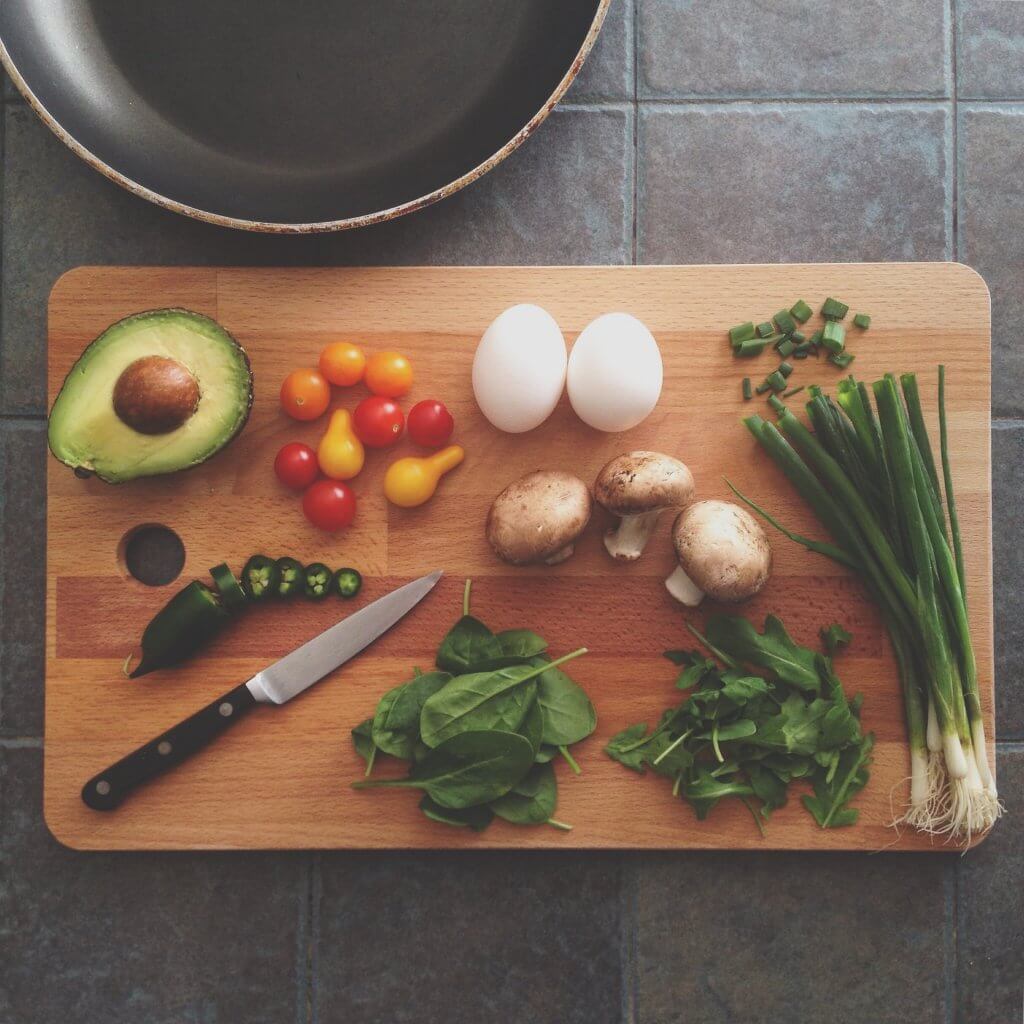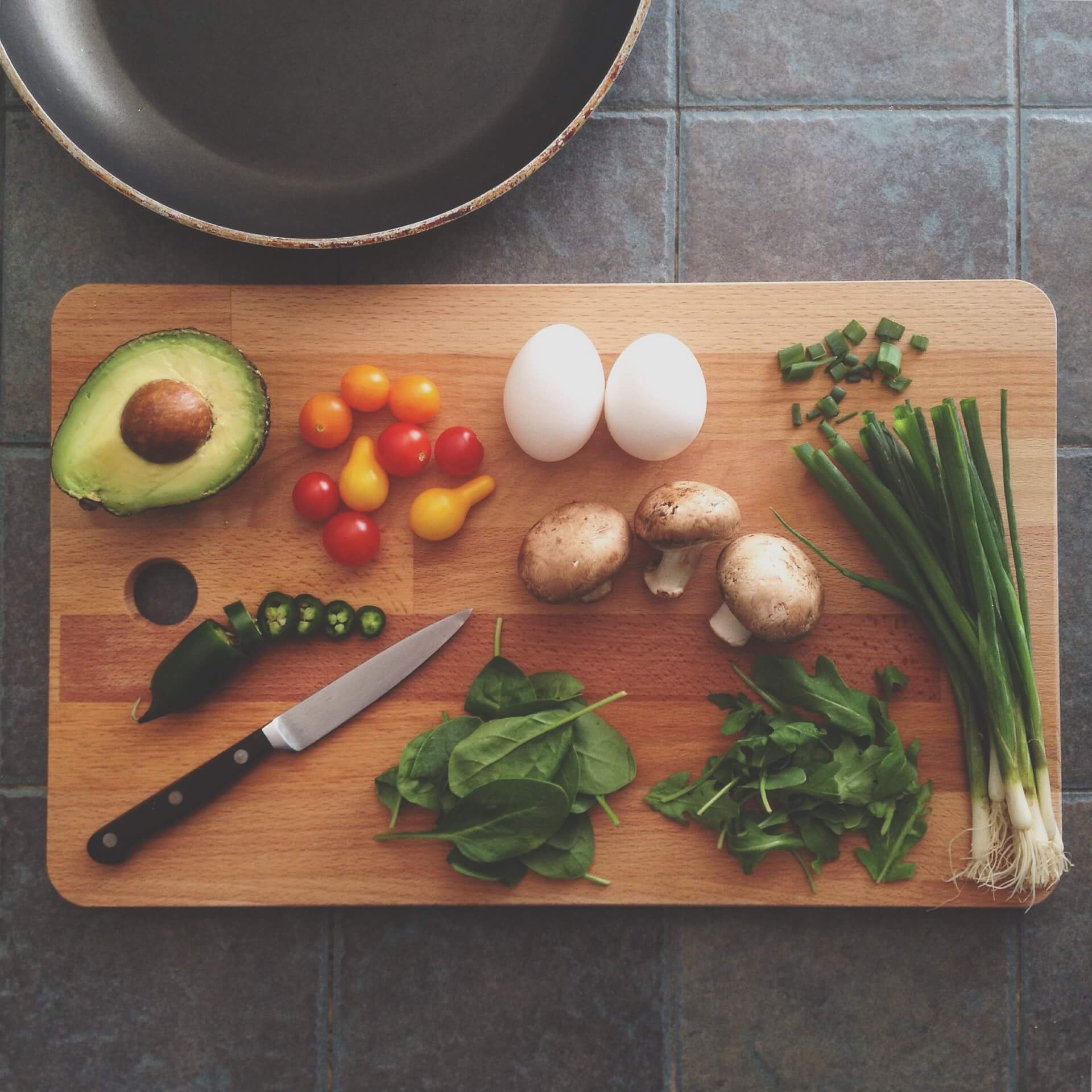 The start of any good meal is in the preparation.
Having the proper kitchen tools to prep your meals takes away the guesswork when it comes time to start cooking. Not to mention never needing to "make it work". Because you really shouldn't be dicing onions with a butter knife.
Prepare yourself for all the amazing things you'll be whipping up with these basics. Whether you're a renter in your first apartment or the proud owner of a new house, keep these essentials at hand:
1. Measuring Utensils
Measuring cups and spoons are the linchpins of any kitchen.
Using a normal glass to measure out a cup won't give you the precise amount you need. A small spoon is not the same as a teaspoon measurement. It's never wise to guesstimate ingredient measurements DIY style.
Investing in a nice set of measuring cups and spoons will make your prep-work flow smoothly. You'll also want to purchase at least one cup-sized measuring cup for liquid ingredients.
Sticking a measurement conversion chart on the fridge is a helpful way to double or half recipes without constantly looking things up with your dirty hands.
2. Kitchen Scale
Another way to measure out your ingredients is by weight.
Kitchen scales come in digital and analog, depending on your preference. For a simple one that gets the job done, you won't have to pay more than $5.00.
You can measure any ingredient you want on a kitchen scale, but they are most useful for separating quantities of meat.
Eyeballing 6 oz of chicken just isn't as easy as it sounds.
3. Vegetable Peeler
Depending on how much you like vegetables, you may be subject to peeling a lot of them. Cut out the risk of using a sharp paring knife and grab an inexpensive vegetable peeler to keep in your drawer.
Your fingers will thank you for it later.
4. Grater
Graters are good for everything from grating cheese to shaving some fresh zest off fruit for your super fancy dish.
Even the simplest of graters will typically have more than one option for grating size so that you can do it all with one tool. You can add this essential to your kitchen for only a couple of bucks.
5. Juicer
We aren't talking about those fancy machines that turn your carrots into juice so you can make elaborate smoothies.
The kind of juicer you'll need for your prep work is a small, handheld utensil that you put a piece of fruit in and squeeze so all that fresh juice comes out. It keeps you from having to squeeze with your hands, reducing mess.
You'd be surprised by the number of recipes that call for lemon juice …
… and how bad lemon juice stings those cuts on your fingers you never even knew about.
6. Mixing Bowls
A set of sturdy mixing bowls is a must-have for anyone preparing food in any kitchen. Regular bowls just aren't big enough to get the job done.
It's best to have at least two different sized mixing bowls, one large and one medium, in case you need more than one for a recipe. A good set of mixing bowls that includes three or four sizes will last you years.
7. Cutting Board
Listen:
You just moved into your new apartment, and the last thing you want to do is rough something up without meaning to.
Don't risk the surface of your limited counter space.
Grab yourself a small wooden or plastic cutting board to protect your counters from getting damaged by knives. Your security deposit may depend on it.
8. Sharp Knives
Dicing vegetables and slicing meat are so much easier when you have a nice sharp knife to get the job done. (This is as good of a time as any to remind you to pick up that first-aid kit your mom keeps mentioning.)
A normal, plain-edged, stainless steel chef's knife is more than enough to get you by. One knife can be used for just about everything when it comes to prep work.
P.S. Here's our recommended knife set for a new apartment.
Also, be sure to check out all the bedroom essentials your new apartment needs!
---
Cooking Essentials for the Kitchen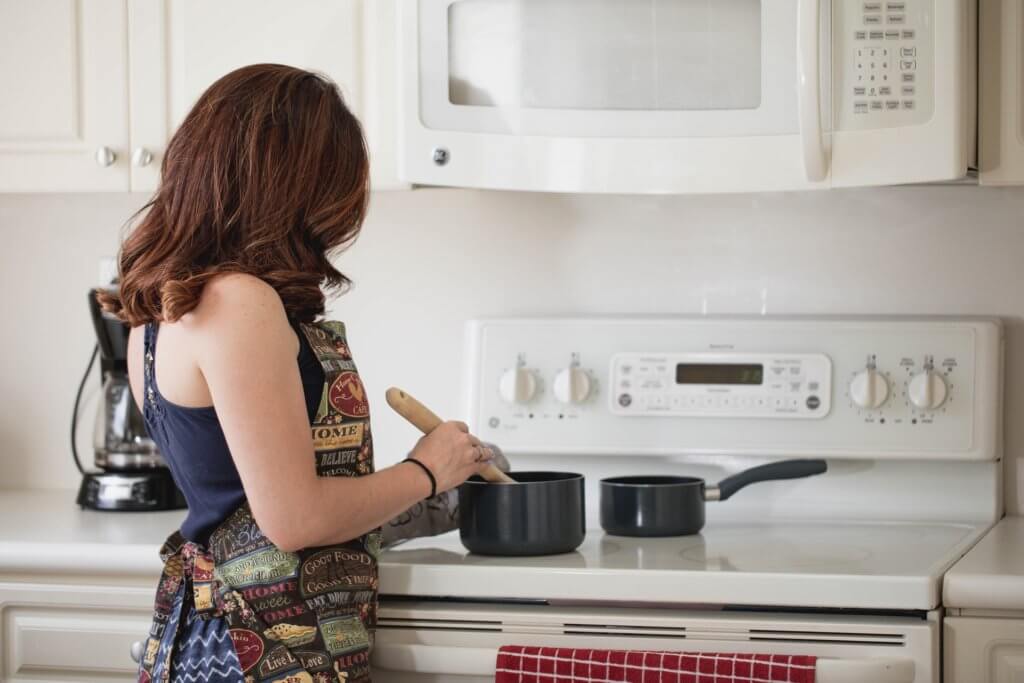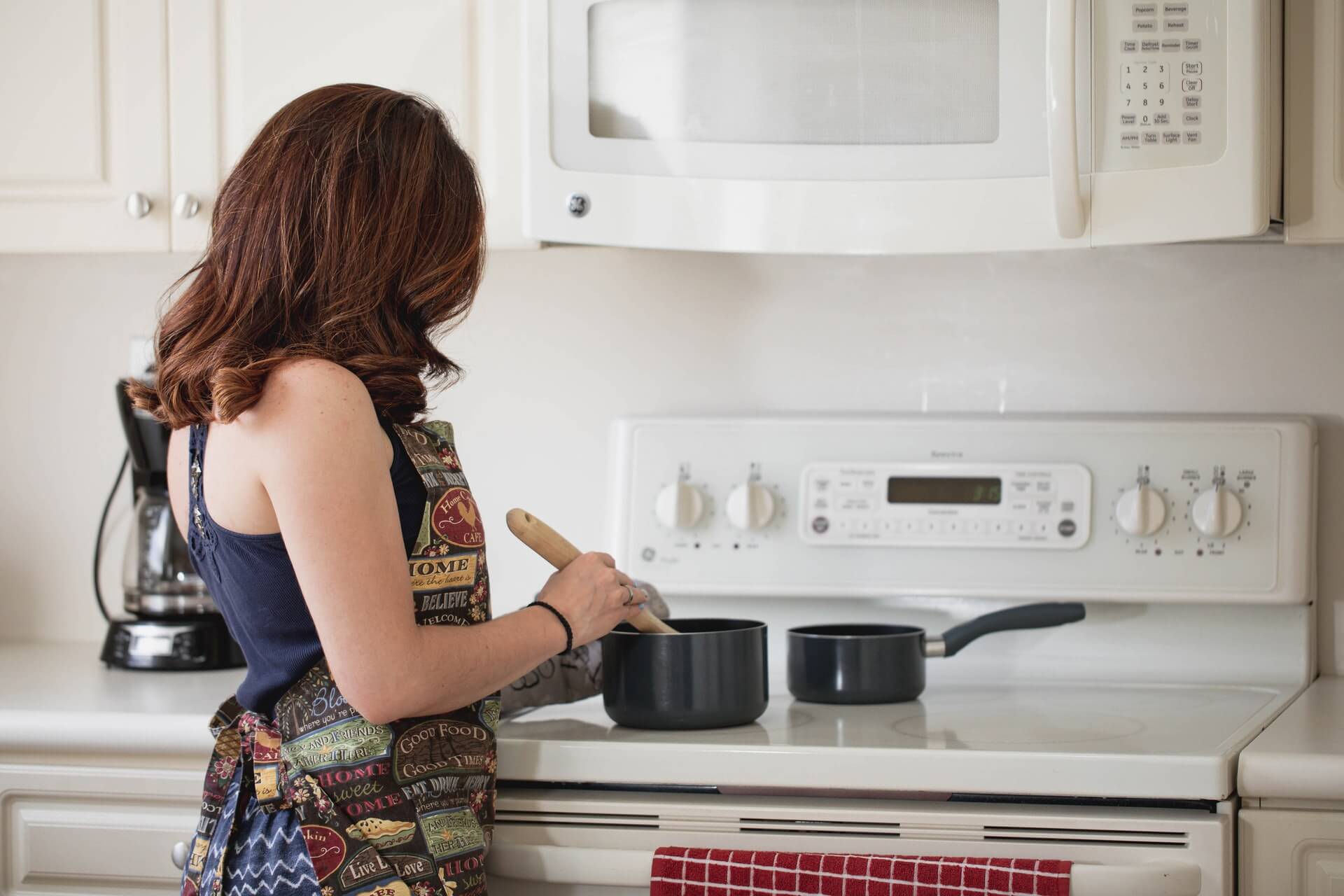 Your ingredients are prepped and set out, ready to get thrown in the pot.
Oh, wait …
You still need a stockpot!
9. Cookware
You'll do every bit of your stovetop cooking in either a pot or a pan. When you think about "essential", these should be at the very front of your mind.
Frying pans —or skillets— give you the ability to scramble eggs and sear meat. At the bare minimum, you should possess a 10-inch frying pan. However, having a full range at 8, 10, and 12 inches will give you the most ease of use.
Sauce pots enable you to boil pasta, heat up soup, and create your sauces. Again, having more than one size will give you more versatility. But a standard 1.5–2 quart pot is a great place to start.
Don't forget the lids!
Hint: this 8-piece kitchen cookware set from Amazon is a great affordable solution.
10. Bakeware
When it comes to sticking dinner in the oven, bakeware is the key.
Using the proper bakeware, you can cook roasted vegetables, make a casserole, or even bake delicious cookies that come out perfect the first time. No matter what you make, you're going to need one of these items.
Every kitchen should have at least one baking sheet, a circle pizza pan, and a glass baking dish. Yours is no exception.
11. Cooking Utensils
If you're going to be cooking anything in your new kitchen, you will need at least one of each of these:
These kitchen utensils will aid you in your cooking adventures like a sword to a knight. Slay every potential dragon and prevent yourself from dealing with some unnecessary stress.
Besides, you can pick up these basics for less than $2.00 apiece.
12. Strainer
You'll use a strainer to drain the liquid from vegetables, pasta, and your box of mac & cheese.
Dumping a pot into a colander is easier on the arms than holding the lid offset by a fraction while trying not to let the noodles escape.
13. Oven Mitts
It's going to be really tough to get anything you cook out of the oven without a pair of oven mitts. You'll definitely burn yourself if you try that.
Oven mitts and potholders
can also be used to set hot pots and pans so you don't end up with scorch marks on your counters.
(Remember the security deposit.)
14. Aluminum Foil
No kitchen is complete without a roll of aluminum foil.
Use this versatile product to wrap meat and vegetables in while they cook, cover casseroles so the tops don't burn, or seal up leftovers.
Think of it as the duct tape of the cooking world.
15. Parchment Paper
Using parchment paper is a great way to keep things from sticking to your bakeware. Even covering your nonstick cookie sheet will keep it looking new for longer.
Plus, your cookies will come out perfect.
Related: 7 Table Decorations to Create the Perfect Dining Arrangement
---
Eating Essentials for the Kitchen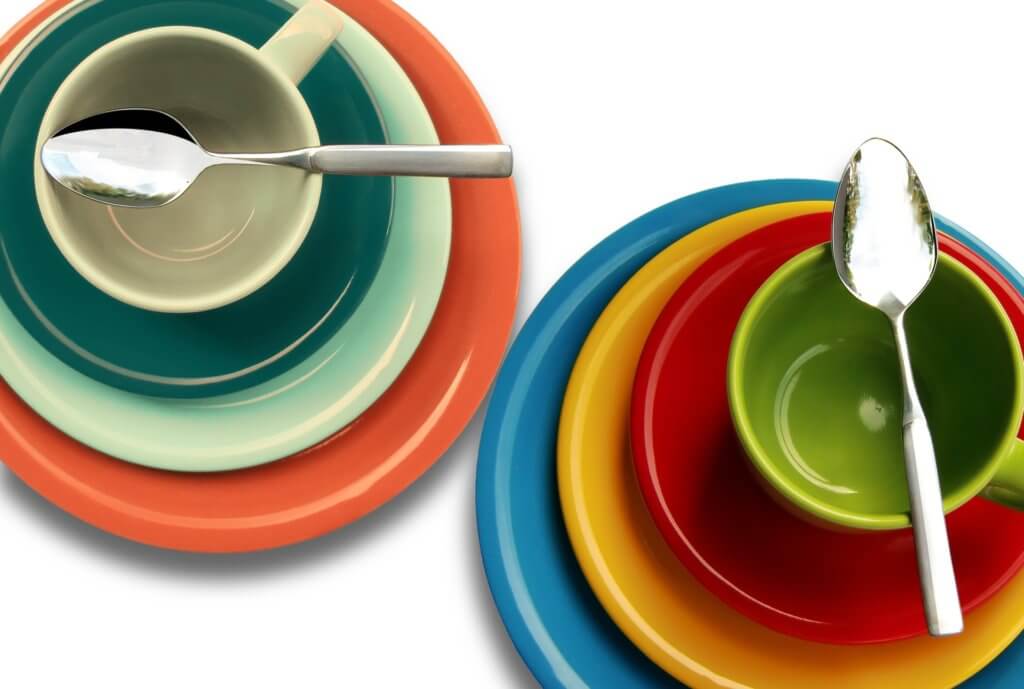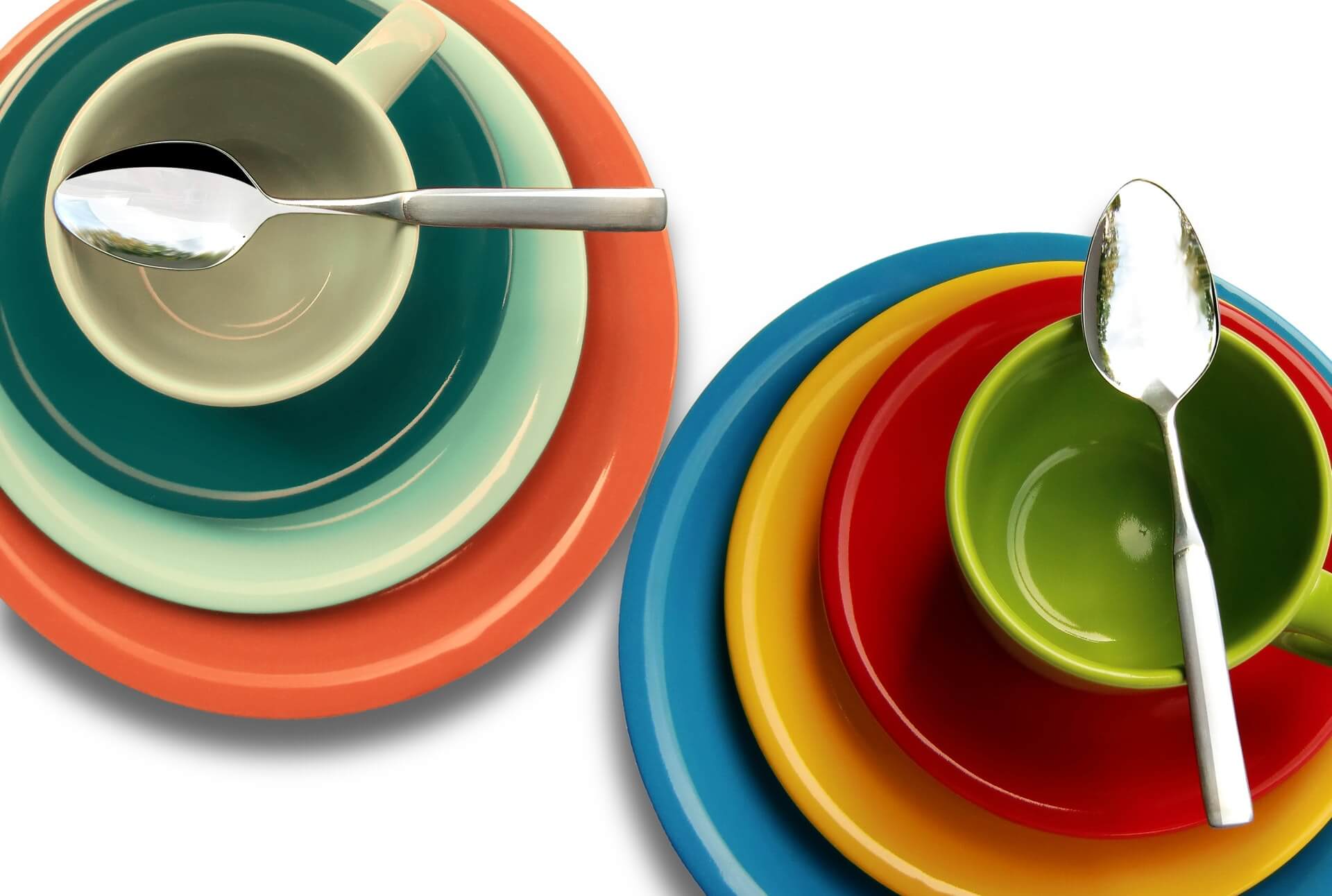 Now that you've done all the hard work, it's time for the best part!
That delicious, piping-hot meal isn't going to eat itself.
16. Dishware
Having something to eat your food on is one essential no one can debate.
You should have at least four sets of dishware in your kitchen. That means four plates and four bowls.
That way, you'll also be prepared should any guests turn up!
17. Silverware
Silverware follows the same rule. You should own at least four of each kind of silverware. That includes forks, spoons, butter knives, and steak knives.
Here's the silverware set that we recommend.
Thankfully, these things come in handy-dandy sets that all match, so everything looks nice and cohesive.
18. Glasses
Just assume you need four of everything.
Glasses go right along with your dishware in the table setting world. Having enough drinking glasses to complete each set just makes sense.
Wine glasses also fall into this category. If you are the kind of person that enjoys drinking from wine glasses, get yourself some.
19. Coffee Mugs
Mugs are the perfect vessel for all drinks hot and steamy.
Make sure to keep yourself stocked up with at least four coffee mugs. You'll need them for that early morning cup of joe, a hot cup of soothing tea, or a soul-warming dose of hot chocolate.
20. Serving Platter
Unless you're serving up your meal buffet style, having a serving platter is essential.
You will use one of these more often than you think to get your meal from the stove to the table. And they double as a great snack tray for your coffee table on game day or for Netflix binges.
21. Bottle Opener
This is one of those essentials that gets overlooked. A bottle opener is a great tool to have around in the event your bottle top doesn't twist off.
You never know when it might happen to you.
22. Corkscrew
A corkscrew in the drawer is the sign of a complete kitchen, truly. If you have a set of wine glasses, it just makes sense to have a corkscrew, as well. Better safe than sorry.
You may also like: The Best Studio Couch for Your Apartment
---
Storage for Your Kitchen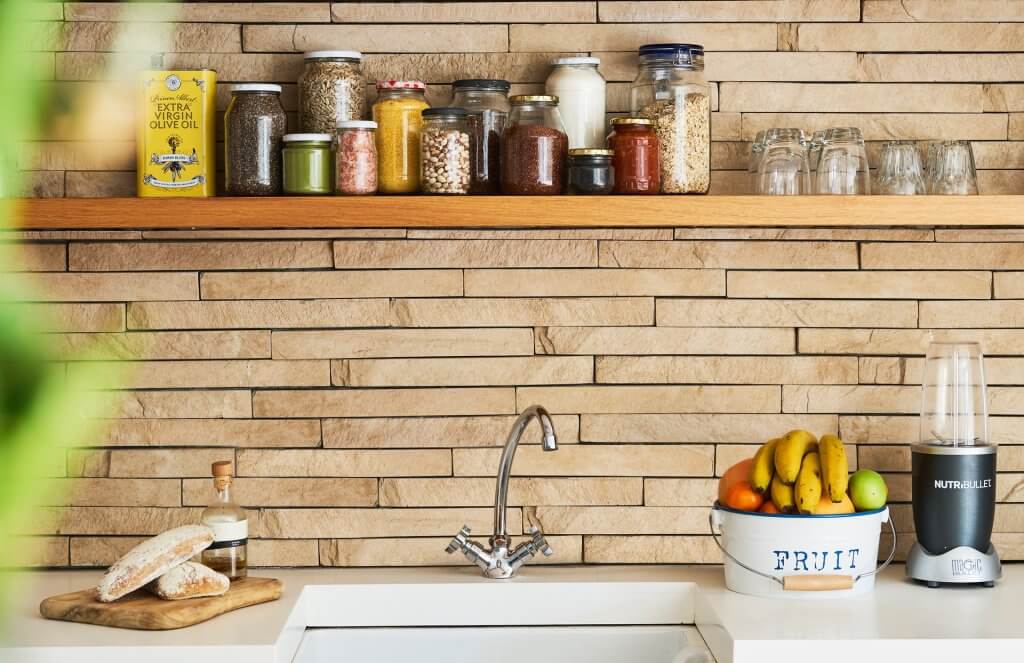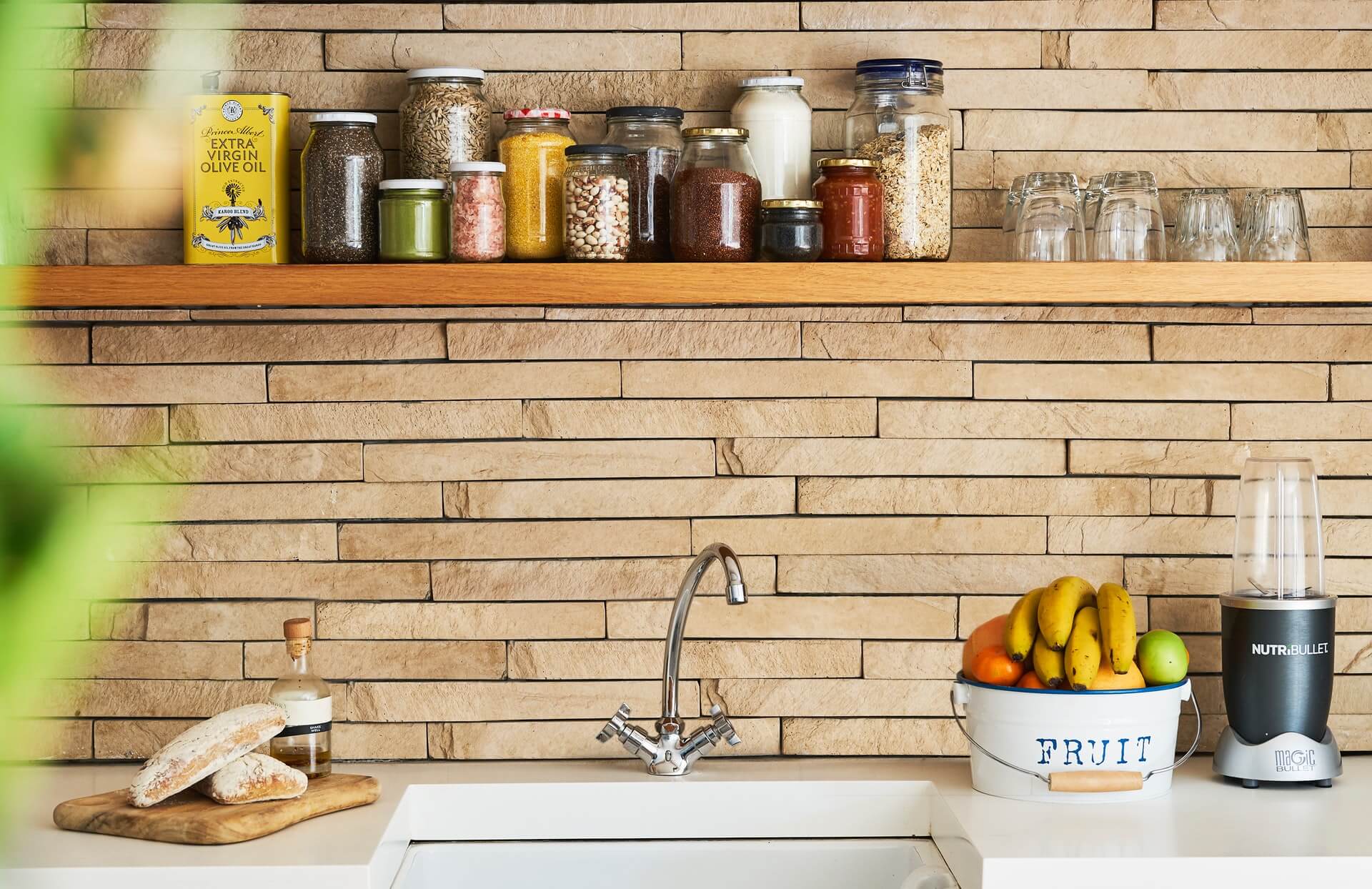 You are so full you might never eat again. There was too much food, and it was all so delicious.
Better save those leftovers so you can have it all again tomorrow!
23. Plastic Ware
Storage containers can be found in every single kitchen. They keep your food fresh while it sits in the fridge waiting to be consumed.
It's a good idea to grab a set of plasticware so that you have a couple of sizes to choose from. And just in case the person you send home with leftovers never returns one.
24. Zip-Top Bags
A box of resealable bags will never steer you wrong. You can use them in the refrigerator, in the freezer, or to pack your lunch for work.
Their uses are, quite possibly, endless.
25. Chip Clips
Nobody likes stale potato chips.
26. Plastic Wrap
If you can keep it from jamming, a roll of plastic wrap will serve you well. You can use it to wrap things up or seal in leftovers, as long as it doesn't keep sticking to itself.
27. Ice Cube Trays
Assuming your refrigerator doesn't have a fancy built-in ice maker, you'll need to make some of your own. Pick up at least two ice cube trays, so you always have some on hand.
28. Silverware Organizer
You'll benefit from some organization in your silverware drawer.
Having a simple plastic organizer keeps you from having to root around for a spoon, and lets you quickly see if all your spoons are actually dirty.
Most of the time, a silverware set will come with the organizer you need!
29. Paper Towel Holder
A simple standing paper towel holder keeps the roll from disappearing and turning up in odd places.
See also: Your Step-By-Step Guide of How to Caulk Trim
---
Kitchen Appliances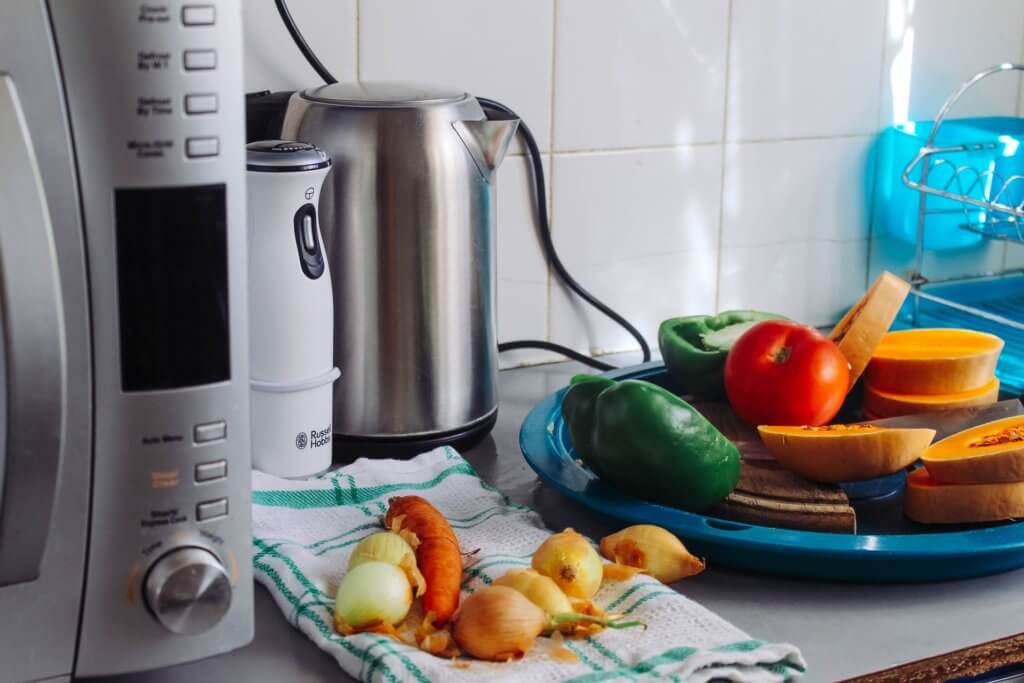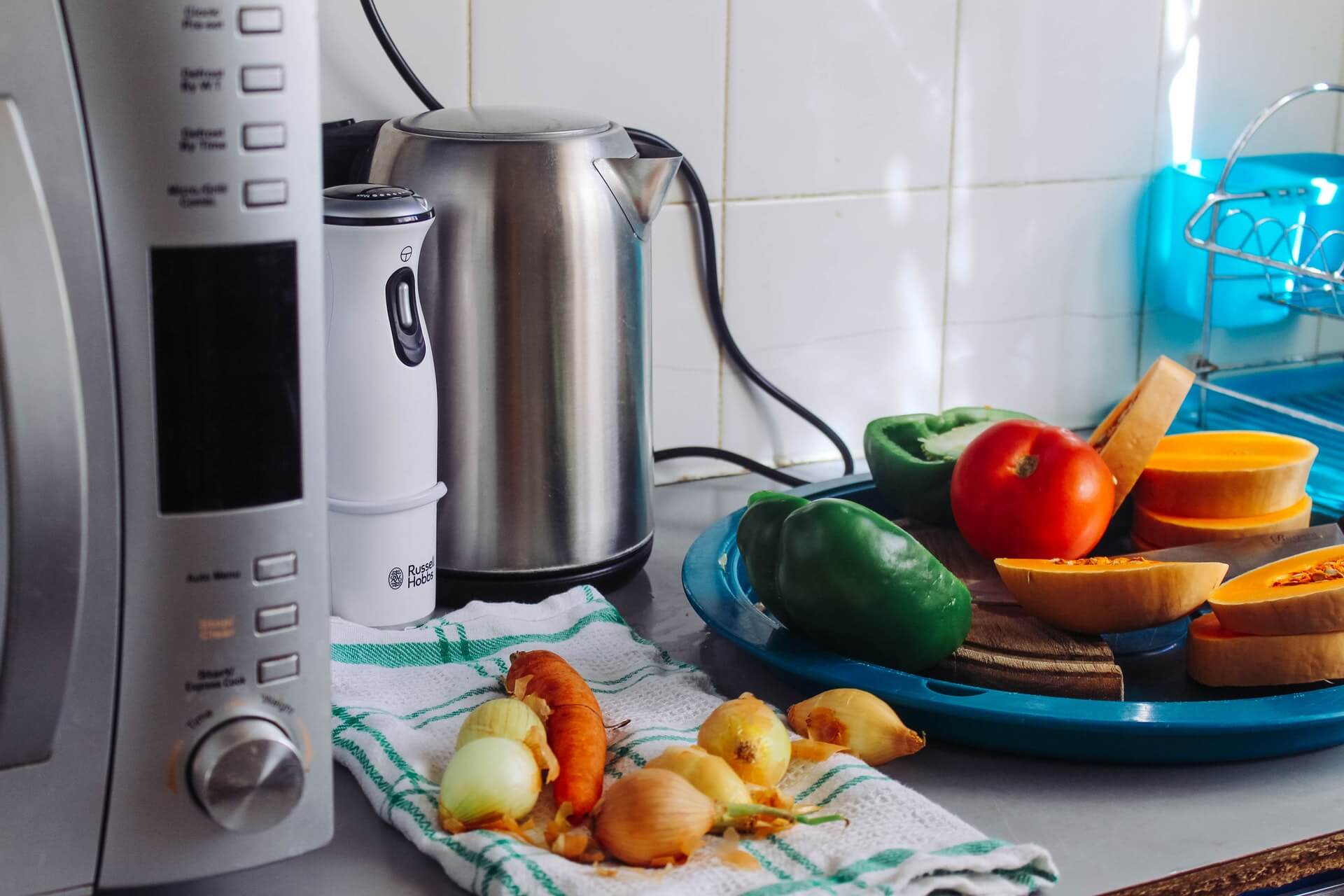 You can't do everything in your kitchen with your stove. Sometimes you need a different method of cooking or a little extra hand with your prep work.
That's where these things come in.
30. Can Opener
Your can opener doesn't have to be an appliance if you prefer using a handheld gadget. Either way, it is an essential part of your kitchen, because they don't make every can with tabs.
31. Coffee Maker
If you drink a lot of coffee, you need a coffee maker in your kitchen. It will keep you from having to buy it out all the time.
You can also avoid instant coffee.
32. Kettle
For tea drinkers, a kettle is essential.
Sure, you could boil your water in a pot, but those aren't very easy to pour into a mug without scalding yourself.
33. Toaster
You can use a toaster to make more than just toast. They are also great for warming up pop-tarts and frozen waffles too!
34. Toaster Oven
A toaster oven is a versatile appliance that has more uses than the name suggests.
Using a toaster oven, you can cook small pizzas, bake potatoes, roast vegetables, and even bake cookies! And they don't even take up very much space.
35. Blender
Sometimes you just can't get around the need for a blender. A simple blender that can finely chop and puree ingredients is great for prep work and making milkshakes!
36. Microwave
A microwave is one of the greatest appliances you can have in your kitchen. If your apartment didn't come with one, get one.
Pretty much every pre-made food has directions to be cooked in the microwave. It's perfect for those nights when you don't feel like cooking a gourmet meal.
Related: The 15 Best Cuisinart Products
---
Cleaning Essentials for the Kitchen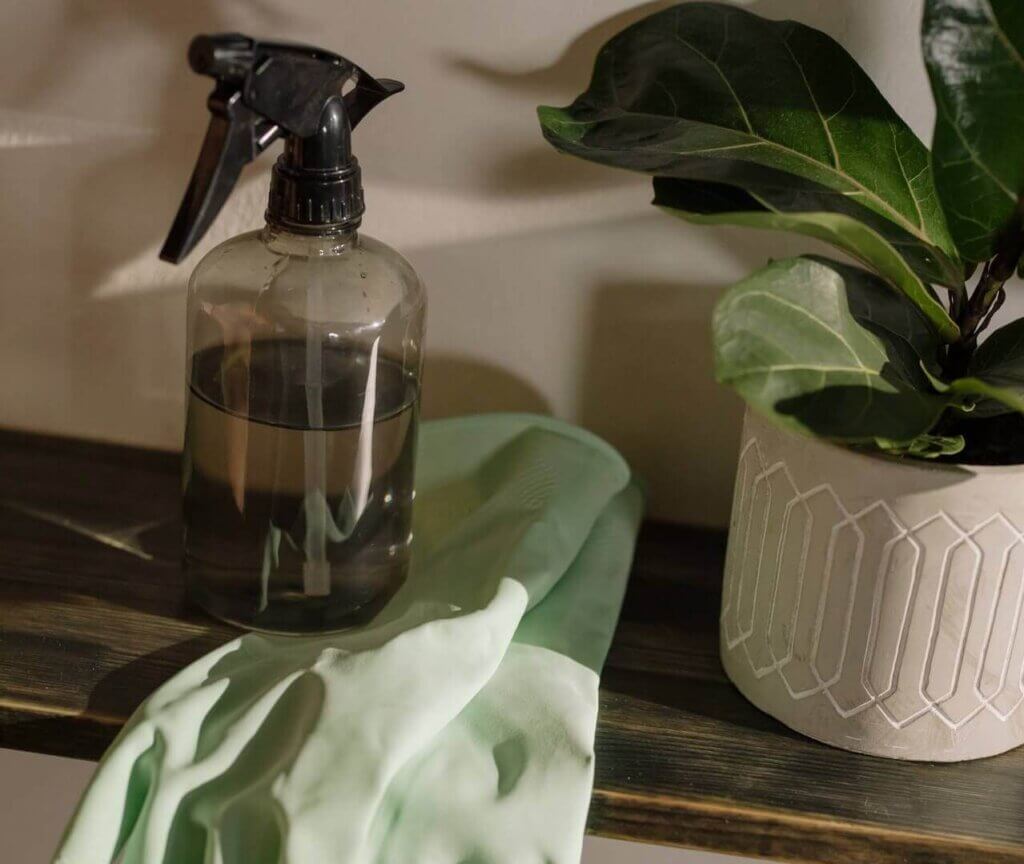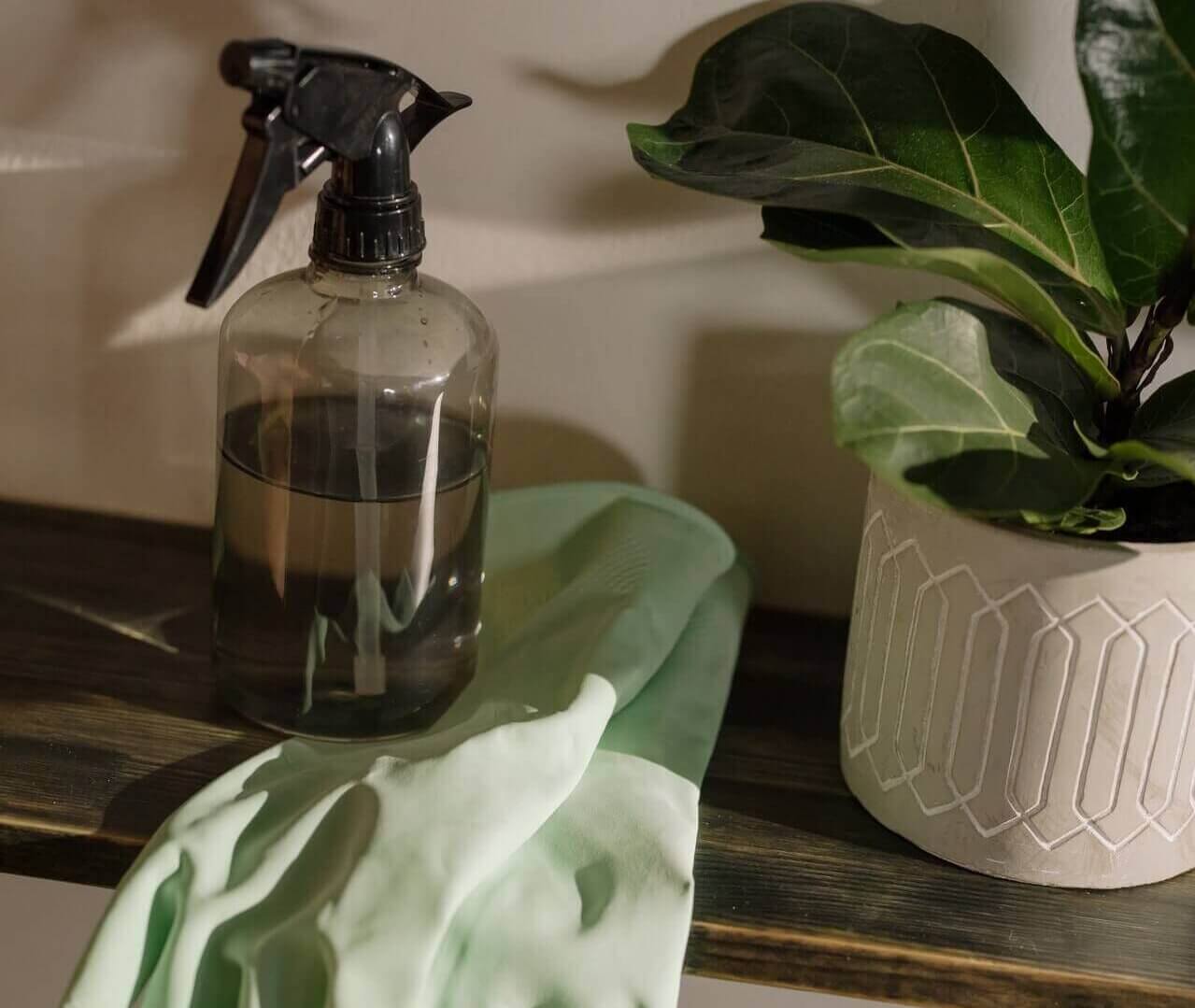 With all of the cooking and eating you'll be doing in your new kitchen, you're going to have to clean it eventually.
Having these essential cleaning supplies will keep the pain of doing chores to a minimum.
37. Trash Can
A trash can is a basic necessity for a kitchen. You really can't go without one. Even a small one will do. Just as long as you have one.
38. Recycling Bin
Separating your recycling from your trash is essential for your kitchen and the environment.
It's also great to have if you live in a state where you can turn in your plastic bottles for a few cents each.
39. Trash Bags
Trash bags can be used in your trash can and your recycling bin. They're also useful for storing and transporting things when the need arises.
40. Paper Towels
Paper towels are limitless in their uses.
Absolutely limitless.
41. Dish Soap
You'll need dish soap to wash your dishes. Even if you have a dishwasher, you'll need dish soap for the things that can't go in it.
On that note, if you do have a dishwasher, don't forget to pick up some detergent for it.
42. Sponges
Another essential for cleaning everything from your dishes to your countertops.
Replace your sponges every month, at the very least. Every two weeks is better.
43. Dish Towels
Dish towels are for more than decoration, I promise. You will use them to dry your dishes, clean your hands while cooking, and wipe down counters.
44. Dish Drying Rack
If you don't have a dishwasher, a dish drying rack can make the process of washing dishes by hand a lot shorter.
Instead of physically drying every dish by hand, you can leave them to dry in the rack before you put them away. It's especially useful for glasses that are hard to reach all the way inside to dry.
45. Cleaning Spray
There are so many different cleaning sprays available that do so many different things.
Here's the deal:
Get one spray. Choose one that's multi-surface so you can clean your counters, your floors, and your appliances with it.
You're welcome.
46. Broom
No matter how careful you are in the kitchen, stuff will get on the floor. If you don't have a broom, you're going to be walking on all kinds of crumbs.
There's nothing better than a well-swept floor.
47. Dustpan
Get a broom with a dustpan included or grab a separate one for $1.00 so you have a way to get that grit from the floor to the trash without any hassle.
48. Mop
It's recommended to mop your floor once every two weeks.
49. Bucket
If you get an old-school mop, you'll also need a bucket to hold the water for it. Buckets are also great for carrying things around and storing things in.
50. Cabinet Liners
Liners for shelves and drawers are great for keeping the interior spaces of your kitchen clean.
This just in: Best Soap Dispensers for 2022
---
And Perhaps the Most Important Kitchen Essentials: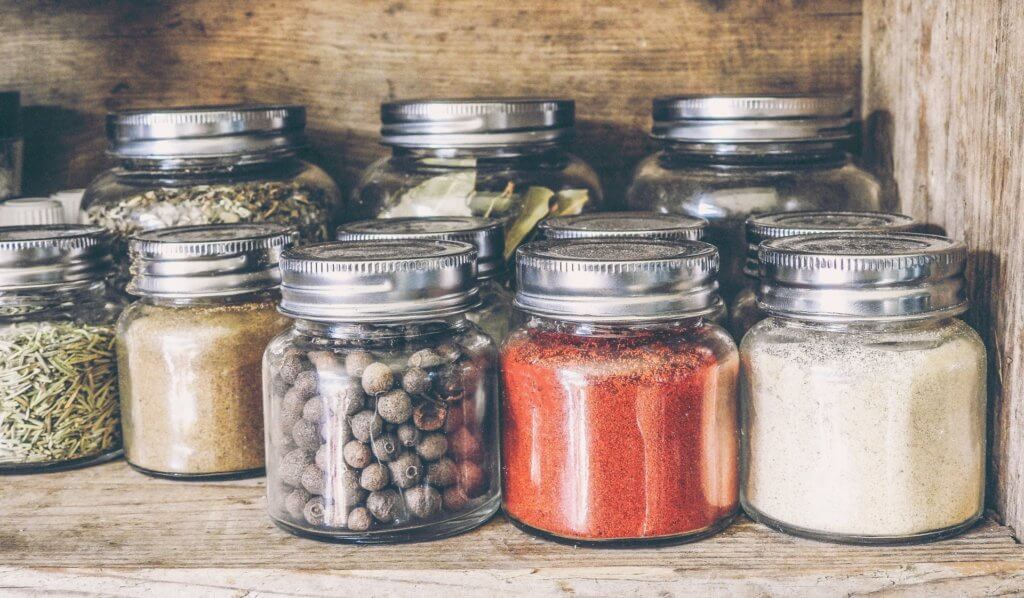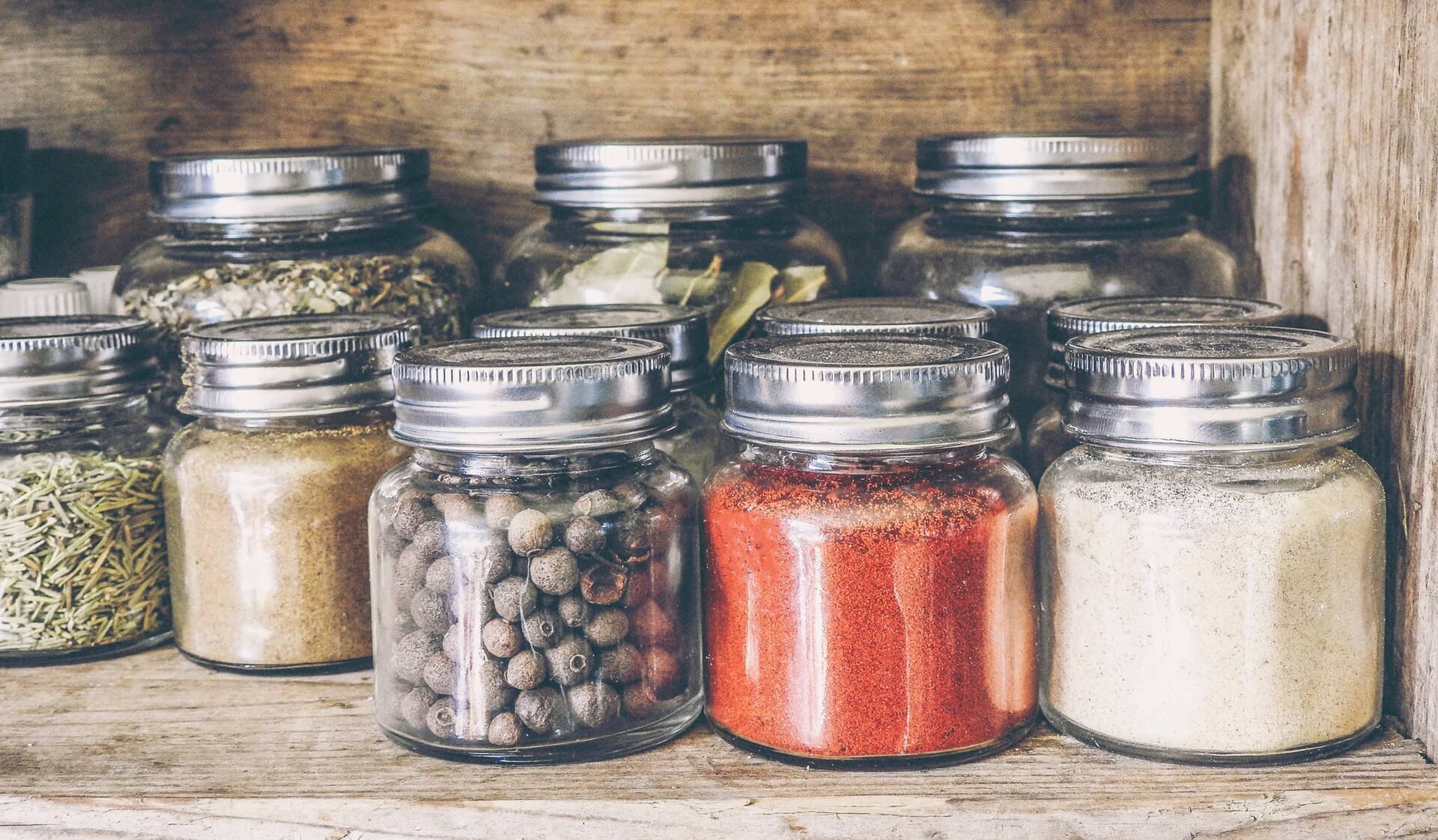 You didn't think we'd leave out the most essential kitchen items, did you?
51. Spices
First thing's first, buy a set of salt and pepper shakers. You're going to need them every day, and that's not an exaggeration.
Cooking is made more interesting by spices and seasonings. You should have some basic spices in your kitchen to keep things from getting bland.
As an extra note, grab some olive oil.
52. Condiments
Everyone has their personal opinions when it comes to condiments. Get what you like, just don't forget to pick them up or you could be making an extra run to the store.
Condiments you might need in your kitchen are ketchup, mustard, mayonnaise, salad dressing, and barbecue sauce.
53. Food
Do your shopping and fill up your new kitchen with all of the essentials on your shopping list.
Don't forget to pick up butter, bread, pasta, rice, and eggs!
Did you get all that?
Good!
Whether this is your very first kitchen or you just wanted to move with all new stuff, you'll be set with the kitchen items above.
Cooking, cleaning, and even eating is a breeze when you have all the things you need within your reach. No spur-of-the-moment substitutions are required.
These new apartment kitchen essentials will more than prepare you to host your first dinner party or cook a tasty meal all for yourself.





(2 votes, average: 5.00 out of 5)


Loading...